The electricity of the future
The flexible technology for an energy transition
A wind turbine glued with photovoltaic cells - what sounds so simple, requires top technical performance. This innovation is made possible by a special property of the photovoltaic cells from DAS Energy. In contrast to conventional photovoltaic systems, the films from the Austrian company are flexible and adapt to the shape of the tower.
"Photovoltaics is generally one of the most environmentally friendly technologies, but it requires a lot of space. Our goal is to make as many areas as possible usable in order to deliver the electricity of the future! "Says Dr. Johannes Srajer, managing director of DAS Energy.
30 solar panels with an area of 60 square meters are installed on the 80 meter high tower of the wind turbine. They face southeast and southwest to capture the maximum amount of solar radiation during the day. The turbines inside the wind turbine, among other things, are operated by the additional electricity.
Working against climate change
Michael Gerbavsits, CEO of Energie Burgenland says, "It is especially important to invest in times of crisis. And it is also important to successfully master the energy transition in order to slow down climate change ". The pilot project in Weiden am See is an example of how innovation can become an investment.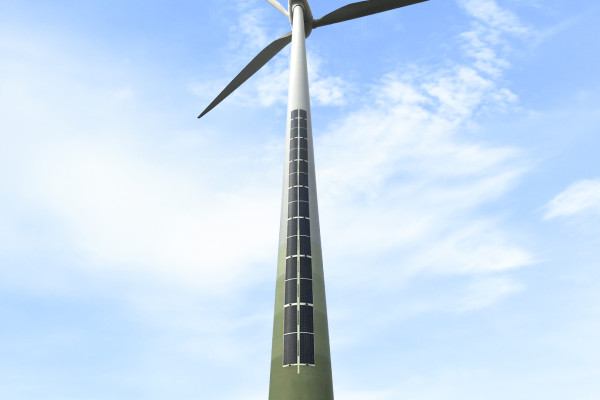 Media & Downloads